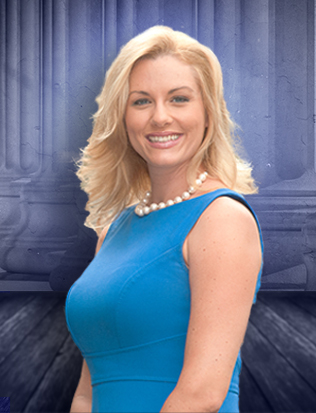 Ashleigh B. Merchant
Ashleigh is originally from Clearwater, Florida, where she was raised with a strong sense of individual freedom. She was not only taught the importance of that freedom, but she was taught that she must work hard to protect that freedom.
In college, Ashleigh proudly served as a Student Senator and she was the Chairwoman of the Senate's Rules and Ethics Committee. As Chairwoman, she headed investigations into claims of abuse and misconduct that were perpetuated by student government leaders.
Ashleigh earned her bachelor's degree in political science from the University of Florida. From there, she went on to attend the University of Florida law school where she graduated in 2003.
During law school, Ashleigh actively participated in moot court and argued before the New York Supreme Court in Buffalo, New York where she won first place in the Herbert Weschler National Criminal Law Moot Court Competition.
While in law school, Ashleigh clerked for a criminal defense attorney where she was able to gain insight and experience into the field of criminal law all throughout the nation. Ashleigh had the unusual opportunity to defend a woman who had been charged with capital murder in a case that Ashleigh took all the way to the United States Supreme Court. Through her passionate efforts, she changed the standard that criminal defendants must meet in order to have their convictions reversed for poor quality legal representation at the trial level.
A natural human rights advocate and firm believer in defending the rights of the criminally accused, Ashleigh proudly worked for the Southern Center for Human Rights located in Atlanta, Georgia. There, she zealously defended individuals on death row in their state and federal habeas corpus proceedings. She also fought for prisoners' rights in various litigation proceedings to improve the conditions of prisons.
Upon graduation from law school, Ashleigh accepted a position at the Metro Conflict Defender where she defended individuals facing criminal charges in the State Court of Fulton County. While there, Ashleigh defended clients against all types of charges including misdemeanors, traffic offenses and DUI in front of both judges and juries. During this time in her legal career, Ashleigh was able to successfully overturn a criminal conviction and free her client due to an error that the judge had made during trial.
Ashleigh went on to accept a position with the Fulton County Public Defender's Office in Atlanta, Georgia. While working as a public defender, Ashleigh was assigned to the complex trial division as well as the appellate division.
As a public defender in the complex trial division, Ashleigh gained an immense amount of experience trying some of the most serious felony cases in front of juries, many of which included rape, aggravated child molestation, aggravated sodomy, armed robbery, carjacking, drug trafficking, child abuse, vehicular homicide, serious injury by vehicle, and murder. Additionally, Ashleigh has successfully prosecuted and defended numerous appeals cases throughout her career.
While serving as a public defender, Ashleigh gained a vast amount of experience personally handling virtually every type of criminal charge in the state of Georgia. As a public defender, she not only gained numerous contacts throughout the legal community, but she also developed critical relationships throughout the Georgia court system where she has sharpened her skills as a tough negotiator and an aggressive client advocate.
Ashleigh's in-depth real-world experience has garnered her reputation for being a powerful criminal defense attorney at both the trial and appellate levels.
Since her legal career first began, Ashleigh has always limited her practice to defending individuals that have been charged with committing crimes. She is a strong client advocate who firmly believes in protecting the rights of the criminally accused, and protecting the innocent from a miscarriage of justice. Ashleigh is an active member of the Georgia Association of Criminal Defense Lawyers and the Cobb County Bar Association.
Recently, Ashleigh was featured in the 2014 Georgia Super Lawyers® Rising Stars℠ edition. The Rising Stars list is compiled based on an exhaustive process of peer review and nominations, and it comprises no more than 2.5% of attorneys in the state. She is admitted to practice in all of Georgia's state courts, the Georgia Court of Appeals, and the Georgia Supreme Court. Ashleigh lives in Marietta, Georgia with her husband John and their two daughters.