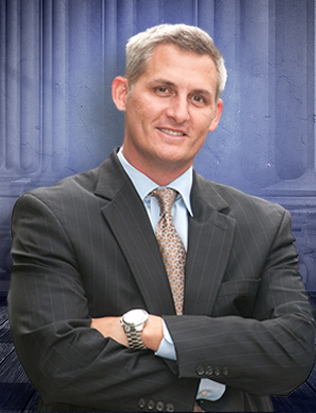 John B. Merchant, III
John is a native of Maine, where he was raised to appreciate the value of hard work and the importance of faith. When he was in high school, he served as both the Student Council President and the President of the National Honor Society. He also actively participated in three varsity sports.
John's passion for academics paid off by earning him an academic scholarship, which he went on to graduate summa cum laude from the University of Maine in Orono. After graduation, John taught high school history for three years prior to attending law school at the University of Florida in Gainesville.
While at the University of Florida in Gainesville, John actively participated in moot court where he argued before a panel of judges from the Eleventh Circuit Federal Court of Appeals.
Graduating near the top of his class in law school, John went on to accept a position at Troutman Sanders, LLP, an international law firm in Atlanta. There, he litigated large environmental claims, product liability cases, and premises liability cases. Additionally, he worked on numerous complex commercial, tax, and class action litigation cases.
A number of years later, he accepted a position with the law firm of Greenberg Traurig, LLP, which is one of the largest law firms in the nation. While at the firm he represented drug and medical device companies, insurance companies, product manufacturers, and hospitals in serious personal injury cases. The firm is renowned for being one of the largest and most successful civil defense firms in the United States.
The years that John spent has a defense lawyer has given him invaluable experience and insight into precisely how large insurance companies and corporations challenge catastrophic injury and wrongful death lawsuits.
After defending large insurance companies and corporations, John realized his passion for helping those individuals and their families that have been injured or harmed by the negligence of other individuals or entities. John is in a unique position as an attorney at The Merchant Law Firm because he began his legal career defending complex injury cases for large corporations and insurance companies.
John's unique experience affords him the ability to effectively go up against large corporations and insurance companies because he knows exactly how such corporations think and act. This insight into the competition allows him to be two steps ahead of them all times, which greatly benefits his personal injury clients. His past defense experience not only gives him a high level of credibility, but it also makes him a formidable adversary at the negotiating table and in the courtroom when pursing maximum financial recovery for his clients.
In addition to his academic and career accomplishments, John has volunteered his time for the Atlanta Legal Aid Society and the Atlanta Volunteer Lawyers Foundation where he assisted individuals in various legal matters including landlord/tenant disputes and small business disputes.
Attorney John Merchant, III had the honor of landing on Georgia's list of Rising Stars℠ by Super Lawyers® magazine. Super Lawyers® is one of the most respected attorney rating services in the nation. Each year Super Lawyers® evaluates candidates based on several indicators of peer recognition and professional achievement.
The goal of Super Lawyers® is to create a reliable and credible list of the most outstanding attorneys in each state. The list is published on an annual, state-by-state basis and is used by lawyers, courts, law school libraries and consumers across the nation. While up to 5 percent of attorneys are listed as Super Lawyers®, not more than 2.5 percent of attorneys are given the honor of being selected as a Rising Star℠. John resides in Marietta, Georgia with his wife Ashleigh and their two daughters.
Professional Associations & Memberships
Georgia Trial Lawyers Association
Atlanta Bar Association
State Bar of Georgia
American Bar Association
Georgia Supreme Court
Georgia Court of Appeals
Northern District of Georgia
Middle District of Georgia
Eleventh Circuit Court of Appeals